A few weeks ago, my ladies' Bible study group got together to create what we called "dream boards" or "vision boards". The idea was to try to visually represent what God is saying to us, doing in our lives, or what He is revealing to us for our futures through collage. It was a pretty open-ended project and the differences between each ladies' board was fascinating.
As the day for doing the project got closer, I really felt like God had dropped this word into my spirit: Obedience. That would be the center of my board, and anything I included on the board would relate to that word and its working out in my life.
So we got together to create our boards, and I searched through magazines for things…words, phrases, or pictures that related to this idea of obedience and what it meant to me.
I cut out these words…
Stand
Let's Go
Beyond
Take action
Fight
"An excellent wife, who can find?"
DO HARD THINGS
and also…
100%
#1
Each of these words, phrases, and numbers all meant something to me in relation to my obedience to God. If I really love Him, as I say I do, then I will obey Him. No matter what He asks. No matter how hard it is.
I hung my board over my desk where I would see it often.
It has been a few weeks since I made my board, and I have looked at it often, mostly focusing on the words "DO HARD THINGS". I don't want to take the easy way out. Radical obedience to God will mean a stretching, a challenge, sometimes doing something that is too HARD for me. But the beauty of it is that as I am obedient, the strength and grace are given when I need it most.
And I need that strength and grace right now.
A couple of days ago, my husband went into the emergency room with tremendous abdominal pain and dangerously low blood pressure. The emergency room staff would not give him pain medication because the pain medication causes the blood pressure to drop which was too risky for him, since his blood pressure was already seriously low. They were giving him lots of fluids to bring his blood pressure back up, but until it was at a certain number, they could not give him any pain medication.
For several hours, he was in agony; alternately moaning or crying. To be ashamedly honest, at times I wanted to run out of the room, sobbing, hands over my ears. I just could not listen to him hurt one more minute.
DO HARD THINGS
So, I rubbed his legs and feet, trying to distract him from the pain.
I tried to pray out loud, but the words stuck in my throat. Even trying to say "Jesus" seemed too hard to say. I could only whisper "He's here. He knows."  I was so grateful to remember the scripture that says the Spirit helps us to pray and intercedes for us.
This new trial is not over yet. Paul ended up having exploratory surgery where the doctors found that his colon was perforated. They had to resection and reattach the colon. His recovery will be long and difficult.
As for me, I run the gamut of emotions. Positive and optimistic one minute, heartsick and racked with sympathy the next. Bravely trying to tell him that everything will be fine one minute, anxiously fearful and overwhelmed the next. Patient and loving one minute, impatient and frustrated the next.
But what it all boils down to is this: obedience.
To my husband? No. But obedience to the God who laid His life down for all humanity. The same God who tells us to lay down our lives for others. To really live out what it says in 1 Corinthians 13:4-7:
Love suffers long and is kind; love does not envy; love does not parade itself, is not puffed up; does not behave rudely, does not seek its own, is not provoked, thinks no evil; does not rejoice in iniquity, but rejoices in the truth; bears all things, believes all things, hopes all things, endures all things.
To do the HARD THINGS.

"The Word is a window that reveals God and His world to us. But it is also a mirror that shows us as we really are."
~Warren Wiersbe, What to  Wear to the War
My all-time, no question, favorite musician of ALL time is Christian music's Steven Curtis Chapman. I have followed his music since I was a senior in high school. (1992) If you follow Christian music at all, you most likely know that a couple of years ago, tragedy struck the Chapman home when one of their teenage sons accidentally backed over their five year old adopted daughter in their driveway. Complete and utter devastation. Unthinkable.
As part of her grief journey, wife and mother MaryBeth Chapman wrote a book, Choosing to See. In this book, MaryBeth writes honestly of her own struggles with depression, being married to a highly visible musician, and finally the worst thing that could happen to a mother: losing a child. The message of this profound book is summed up in its title: that we choose to see….see that  God is good when things are bad, to see that there is something to be thankful for if we would only choose to see…
711. seeing (again!) toys scattered ALL over the house…I choose to see that I am blessed to have my beautiful daughter and the material resources to provide toys for her
712. seeing loads of laundry piled up…I choose to see that I am blessed to have clothing and the appliances to properly clean them
713. seeing medication bottles, boxes of new bandages…I choose to see that my husband is healing daily
714. seeing the (kind of depressing:)) dollar amount in my bank account…I choose to see that I have a job which provides those finances
715. seeing dried up food bits on my stove (sigh, need to scrub it again!)…I choose to see that I have food to eat
716. seeing my old, stained carpet…I choose to see that I have comfortable shelter, my floor is not a dirt floor
717. seeing that flat tire…I choose to see that I have transportation
718. seeing that number on the scale (total loss so far–37 pounds!)…I choose to see what I have accomplished (with God's help)
719. seeing those that rub me the wrong way…I choose to see them as God does
Sometimes, gratitude spontaneously bubbles up in our hearts, and sometimes we have to choose.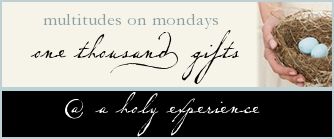 "But when Christ is at the center, when dishes, laundry, work, is my song of thanks to Him, joy rains. Passionately serving Christ alone makes us the loving servant to all. When the eyes of the heart focus on God, and the hands on always washing the feet of Jesus alone–the bones, they sing joy, and the work returns to its purest state:  Eucharisteo. The work becomes worship, a liturgy of thankfulness." ~Ann Voskamp, One Thousand Gifts
As I have been introducing the alphabet to Lyli, I have wondered which would be the best way to introduce the idea of upper case and lower case letters. I have noticed that on some mommy blogs, the moms introduce them separately; teaching the capital letters first, then the lower case. I have decided to teach them both simultaneously. For my purposes, we are simply calling them "big" and "little" letters. I am taking this process slowly, mostly just enjoying my time with Lyli and focusing on the process rather than the product.
Here's an activity we did this week to reinforce not only the idea of "big" and "little" letters, but also the spatial concept of "big" and little":
We started by reading the book Big Dog…Little Dog by P.D. Eastman.
Then I cut out a large piece of butcher paper, divided it in half, labeling the halves "big" and "little". I read the words aloud to Lyli, pointing to the word as I read. I painted my own hand to make a handprint to put under "big" and painted Lyli's hand to make a handprint to put under "little".
We took some sponge letters and stamped them in the "big" or "little" section. We finished by painting our feet (I let Lyli paint my foot which she thought was absolutely hilarious) and stamping our feet in the correct areas.
The finished product:
Of course this activity was quite messy, but was a lot of fun and a big hit with Lyli!
In keeping with the theme of experiencing the love and grace of God through my physical senses, I now turn to my sense of hearing:
I'll call this…The Sounds of Vacation
702. Instead of loud, heart- jarring alarm clock beeps… I hear "Mom! Wake up! It's good morning time!  The sun is up!"
703. Instead of ringing school bells…I hear music: mostly praise and worship, sometimes country, sometimes 80′s hairbands
704. Instead of the squealing of school buses…I hear the squeak of Lyli's tricycle wheels
705. Instead of "Mrs. Norwood! Mrs. Norwood!"…I hear "Moooooom, I want a snaaaaack…."
706. Instead of the noise of a busy Starbucks…I hear the quiet murmur of my own coffee pot
707. Instead of ADHD-driven pencil tapping…I hear the slurp of finger painting
708. Instead of dozens of student voices chatting…I hear a three-year-old's ongoing dialogue with dolls and stuffed animals
709. Instead of fart and burp noises…I hear a three-year-old say, "excuse me mom, that was my tummy" or "excuse me mommy, that was my toot".
710. Instead of my own nervous  inner dialogue of "how am I going to get it all done?"…I hear HIS voice telling me to "Be still and know that I am God."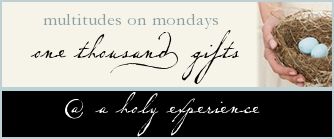 Please Stop Laughing at Me…One Woman's Inspirational Story by Jodee Blanco is her  personal story of being bullied during the majority of her young life. As a teacher, and as a person who experienced being bullied,  I wanted to enter into Jodee's experiences to gain wisdom and insight into the very real problem of bullying in our schools. Something Ms. Blanco says in her introduction to the book struck a chord within me, and really sums up the feeling of someone that's been bullied. She says:
"I let students know that bullying can damage you for life, and that bullying just isn't the mean things you do, it's also all the nice things you never do, like letting someone sit alone at lunch, always     picking the same person last when dividing teams for class, or talking about someone instead of with them. I explain that this can be worse than overt physical abuse, because it doesn't make the victim ask himself "What's wrong with you?" it makes him ask himself, "What's wrong with me?," and he will likely carry that self-doubt his entire life." (Blanco, 1x)
Now, while I do think Ms. Blanco helps the reader to identify the struggles and trauma of someone who is bullied, I also feel like she perpetuates a strong "victim mentality" which is NOT helpful nor conducive to the healing of the bullied individual. Maintaining that victim mentality often makes relating to peers even more difficult. I hesitate saying this because it is so important for the victimized child to be heard. But common threads throughout the book are that Jodee seems to consider herself morally and ethically superior to her peers (and makes this obvious in how she attempts to relate to them), consistently pursues relationships with people who want nothing to do with her (while seemingingly able to get along with people on the debate teams, writing clubs, and theater groups she joins), and appealing to  parents who spoil her by giving her whatever she wants.  These were some of the elements of this book that just did not ring true with me.
Yes, bullying is a horrible reality. I have personal experience with it.  What is not realistic is that the bullied victim is always  some kind of misunderstood saint. Quite often, the bully/victim scenario is NOT one-sided. A case in point: I had two students, one of whom was a known bully. The students were often supervised closely to ensure that they had little contact. Both students were instructed to stay away from each other. For the most part, the "bully" abided by this. However, the "victim" was observed not just by me, but by other adults to continually come around the bully, attempting to engage in conversation or play with him. I realize that the "victim's" insecurities fed into him wanting to be accepted by the bully, but at what cost? Lots of time was wasted on crisis control, which could have been avoided if the "victim" had simply played with peers who already were friendly towards him.
This book would have more credibility for me, if Ms. Blanco's experiences had been balanced with concrete examples and strategies (perhaps in collaboration with a knowledgeable psychologist) on how she could have dealt more appropriately with her social difficulties.
Disclaimer: I received this book for free from Booksneeze.com. My opinions are my own.
In working to become ever mindful of the blessings of God in my life, it has occurred to me recently all the blessings that are taken in through our physical senses; Our neurological workings designed and created by an all-powerful God that give us our senses of sight, hearing, smell, touch, and taste. We are "remarkably and wonderfully made" as described in Psalm 139. It becomes clear that God is relentlessly pursuing and loving on His people.
Thanking Him for…
689. the smell of sunscreen
690. the smell of pool chlorine
691. freshly washed little girl hair
692. freshly washed bedding
693. a freshly washed Boo-Boo Bear (he was really starting to have an odor, LOL)
694. the smell of garlic and onion cooking
695. the smell of the familiar perfume of friends
696. the smell of a classroom
697. the smell of new books (a personal favorite! fresh, clean pages, ahhh… an e-reader just does NOT compare:))
698. the smell of old books
699. the smell of roses
700. the smell of coffee brewing
701. the smell of fancy hand lotion (makes me feel so decadent)