Some would say that you stopped being a baby a long time ago, but for me, this birthday marks the day you "officially" become a "big kid". Five years ago, Daddy and I drove to the hospital, nervous and unsure about what we were getting into…and then there you were! That first night in the hospital was tough. You were awake and hungry, it seemed like, every twenty minutes. But we made it! Daddy wanted to hold you all the time. We had lots of friends and family come to the hospital to see you. When it was time to take you home, I was scared. Would I be a good mommy? All I wanted to do was keep you safe and happy. I worried if you were too cold or too hot, if you were hungry, or needed your diaper changed, or if you were breathing! During the night, I would flash my cell phone in your face just to make sure.
I cried when you started daycare (although we've always called it "school"; it made me feel less sad). I cried when you got your first shots (well, we both did). I loved how you would crawl to the end of your crib, push the bumper pad down, to smile at me and dad. And even though we let you sleep with us far too long….(poor daddy–you always kicked him and he ended up on the edge of the bed!) I don't regret that extra snuggle time one bit.
I don't want to forget all the amazing things about you (though there's more to come!), so here are a few of the things I love about you:
1. how much you love your family and how you show it! You give the best hugs and kisses!
2. Your imagination–the stories you make up with your dolls and toys
3. that you love church
4. that you say great prayers
5. that you are the best big sister
6. that you are already telling baby Susanna about Jesus
7. that you love books
8. that you are a good friend
9. that you can't wait to go to kindergarten! Thank you for promising me that you'll "come back" after kindergarten
10. that you love to be a big helper
11. that you know what "zero" means
12. that you take great pictures–you have the best smile and dimples!
13. that your hair has natural curl
14. that you love all things pink and purple and sparkly
15. that you love your daddy so much
16. that you always have to tell me "sumpin"
17. that you love to sing and dance and put on shows for us
18. that you love to worship
19. your enthusiasm for "ballerina" class
20. that you are good at saying "sorry"
21. that you forgive me and dad when we make mistakes
22. that you can remember something that happened a year ago (in great detail) but you can't remember what you did in Sunday school
23. that you said you would go with baby Susanna to her "baby class" at church so she wouldn't be scared
24. that you and I can have an attack of the giggles for no reason
25. that you are getting old enough to watch "Little House on the Prairie" and "Anne of Green Gables" with me
26. that you like going to the bookstore
27. that while learning to ride your bike, I hear you say to yourself, "you can do it Lyli"
28. that after all this time, you still love your Boo-Boo Bear
29. that you love to give me and daddy gifts (you draw the best pictures and find the best rocks and flowers!)
30.that you think everyone is a friend
I think that Daddy and I are so blessed to have you.  I look forward to seeing what God has in store for you! I believe He has amazing plans for you!
Love,
Mommy
Last week at the couples' bible study Paul and I attend, the ice-breaker was to share something that has happened in your life where you were blindsided.
Paul and I had no trouble whatsoever thinking of what to share, because a few weeks ago, I was in a serious car accident.
I've not written about it up until now for a couple of reasons. One is that emotionally, I've been a wreck. It's been easier to just watch mind-numbing television in between tearful meltdowns. Another reason is that I didn't want to write about it on the blog until I felt like I had some neat, tidy, spiritual lesson to go along with it.
The accident was one of those surreal moments, where you feel like you're outside of your body, watching the event unfold. One thought that went through my mind was "I can't believe this is happening."
I was attempting to make a left hand turn, and was broadsided on the passenger side of my car, flipping the car onto its side. I was wearing a seatbelt and thankfully was only minimally injured; just bruises and a couple scratches. It did take about 30 minutes for emergency personnel to remove the roof of my car in order to get me out.  During that time I was afraid of going into shock and/or a panic, and so besides praying, "Jesus, Jesus", the only other prayers I could get out was "help me to have faith" and "help me to trust". Over and over again I repeated those prayers, which helped keep me calm.
Though I briefly mentioned this in a previous post, I've not really shared much on the blog about the fact that I am pregnant. So of course, this was the first thing out of my mouth when help arrived.  Other than being sore, I was pretty sure I was ok. It didn't feel like anything was broken, and once the fire department took the roof off my car to get me out, I was able to climb out on my own. I laid down on the gurney that was waiting for me, and was loaded into the ambulance.
I knew my husband was there; another person at the scene told me, but I hadn't seen him yet. I finally saw him when I was in the ambulance; he reached out to rub my foot and was crying.
We arrived at the hospital and the ER staff examined me; it was determined that I did not have any broken bones, but that the priority was the safety of the baby, and so I was then taken to labor and delivery for observation. While I was sitting in a wheelchair, waiting for a room, I noticed Paul's hands shaking behind me. He had been with me in the ER but I hadn't really looked at him. Now, noticing his hands, I asked him, "are you going to pass out?" He said, "I don't think so." He was very shaken up.
I was kept overnight for observation. They monitored the baby's heart rate, took an ultrasound, and to see if I was having any contractions. (I wasn't) The baby was doing well.
Paul and I knew we had much to be thankful for.
In the days following the accident, emotions were especially delicate. Pregnancy hormones didn't help either! There wouldn't even necessarily be a "trigger" or "flashback" and I would dissolve into tears.
It's been hard to not think of the "what ifs"; mainly because even though I was alone in my car, originally I was supposed to have Lyli with me. At the time of the accident I had been on my way to pick up my sister Tara and her newborn son to take them to a doctor's appointment.  Lyli had a little stomach bug and had thrown up a few times, so I didn't really want for her to be around Tara's baby. Paul also happened to be home that afternoon. If Lyli hadn't been sick, she would have been with me, whether or not Paul was home. If Paul hadn't been home, I would have needed to take her with me in spite of her being sick. If those two factors hadn't been place, Lyli would have been with me in the car, and where I was hit is the side of the car where her booster seat was. Most likely, she would have been significantly injured if she had been in the car. I am thankful over and over again that she wasn't.
I've been fearful of driving since the accident. Cognitively I knew this was one of those "get back on the horse" situations but emotionally I was torn.
I wanted to drive and get out of the house but part of me never wanted to leave the house again.
Driving again has been not as bad as I thought. I told Paul though, that the accident has really messed with my driving confidence. I've always loved driving. I love the independence of going where and when I want.
Now when I drive, my stomach is tense and my hands are clenched on the steering wheel. I see potential accidents all around me.
It's getting better though. I'm not crying as much and driving is getting easier.
I said at the beginning of this post that I didn't want to share it till I had some kind of spiritual lesson to go along with it. And I don't know that I have a lesson now.  I'm still very much in process emotionally and spiritually on the whole thing.
I know that before the accident, Paul and I were debating over the new baby's name. I wanted "Susanna Joy", and he wanted "Susanna Grace".  After the accident, once we knew that baby and I were well, I conceded that "Susanna Grace" was probably the best name after all.
Here's what I do know:
That God loves me and my family.
That He's there for me, patiently gentle with me, as I process all the emotions involving the accident.
That I fervently pray for my faith to be strengthened because of the accident.
And maybe those are good enough lessons for me to learn right now.
Two views of my car:
Lyli sitting on the edge of my bed, pretending to be "Dr. Lyli". She would ask me "where does it hurt?" and then "write" it down on her little notepad. Then she told me I needed a band-aid, a shot, and a smooch. Lyli has a sensitive heart for when someone is hurting.  I love her.
Surprised by Oxford is one of my favorite books to have reviewed thus far. It is the memoir of young Carolyn (called Caro throughout the book) of her time at prestigious and historical Oxford. Carolyn goes to Oxford, a spiritual skeptic and searcher…and comes out having had an authentic life changing encounter with God. Deeply intellectual and yet also profoundly spiritual, Surprised by Oxford is not preachy, cliched, or overly simplistic. Carolyn asks the hard questions, and through conversations with Christians and non-Christians, sifts through doubt (partially related to a difficult family history) and comes to know and experience the love of Jesus Christ. Carolyn is studying literature and the book is filled with quotes from literary masters who also sought and found spiritual significance. Infused throughout the book are moving descriptions of beautiful cathedrals and other locations of historical and spiritual significance that also impact Carolyn's spiritual journey.
Surprised by Oxford is a thoroughly enjoyable read, particularly for those of us who appreciate the love of literature, and who appreciate the lovingly detailed ways in which God pursues a relationship with His children.
Disclosure of Material Connection: I received this book free from the publisher through the BookSneeze®.com <http://BookSneeze®.com> book review bloggers program. I was not required to write a positive review. The opinions I have expressed are my own. I am disclosing this in accordance with the Federal Trade Commission's 16 CFR, Part 255 <http://www.access.gpo.gov/nara/cfr/waisidx_03/16cfr255_03.html> : "Guides Concerning the Use of Endorsements and Testimonials in Advertising."
From an interview with Ann Voskamp on the writing process:
"I come empty and wait upon the Lord. So it really is all a waiting process, a patient process. I write a chapter, then edit it and edit it and edit it and edit it. I don't think we mine creativity from within. It's bestowed from on high, from God."
From World Magazine, July 14, 2012, Vol. 27, No. 14
I was saddened to see how long it had been since I had posted a current gratitude list. I knew it had been awhile, but I didn't realize it had been months. And while on some level, I could make excuses for myself (work stress, I'm pregnant and dealing with all of the discomforts associated with it), the flip side is that by not pushing through those things and offering up thanks to God anyway (by faith!) I forfeit the blessing that comes from being intentional about expressing my gratitude for all the blessings He has given me. I forfeit the perspective of seeing what I truly have, rather than allowing myself to become depressed over all the things I think I deserve and don't have. The result of course, of not paying attention to all the blessings around me, is a spiritual dryness, a loss of intimacy and relationship with my God and Savior.
It's funny, how during times of particular closeness with Him, I tell myself, "don't forget this! Don't forget what a blessing this is! Don't let the Enemy in!" But that's exactly what I did. I told myself I was too stressed, too tired, too….you name it…to be ever mindful of God's hand and work in my life. This is how Satan works; he subtly diverts our attention to the cares of the world instead of the promises of God.
So, tentatively, humbly, I come before the cross, once again recognizing the mess that I am and beauty that He is and begin to whisper again…Thank You God…
For…
889. new life growing within me
890. summer vacation
891. job transfer! Back to my old school site!
892. couples retreat
893. nephew Tyler Jayden born!
894. safe labor and delivery for my sister
895. new dad brother in law
896. being an auntie
897. Lyli saying "mommy, I love you" several times a day
898. friends moving close by
899. friends moving far away
900. God's continued provision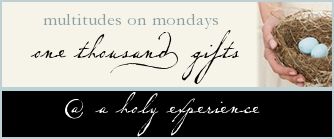 The context of this quote is a professor telling his student why she must memorize a particularly long poem, but I felt it was also appropriate in how we can approach scripture if we want to really make God's word a part of our living and being:
"Because what you memorize by heart, you take to heart," replied Dr. Nuttham simply. "It shouldn't be called by 'rote' but by 'root', for you get at the source of the text, its foundation. Once you really absorb the words, the words become your own. Then, and only then, can you mull them over on your tongue, appreciating them as you would good wine, enjoying them as the company of a good friend. Besides, " he added, "we always value something for which we've had to labor."
I am thrilled to share with you the new and improved version of "Wendi's Words"! I have been looking forward to this day for quite some time. My previous blog theme was cute…I mainly picked it out of desperation, because I could not decide and was afraid that if I didn't pick something, I would never get to actual blogging! However, I never felt fully comfortable with the previous look. It was cutesy, outdoorsy, and whimsical, which was fun…but if you really knew ME, you would know that it didn't really fit my personality.  I do like the outdoors, and I can be whimsical at times, but overall, I'm actually more of a serious, coffee-drinking, type-A, list-making, bookworm.
Along with the new design, there are other changes and new things I will be adding to the blog this year. I will be expanding my faith section to include Bible studies and printables. Under my section on teaching in the public school system, I will be starting a series of "kid stories" where I share stories of students and youth I've worked with over the years (real names not used to protect confidentiality of course). The purpose for this is to help readers gain a sense of "realness" that these kids are not just random, generic kids, but real young people with real needs and hurts which in turn should compel us to fervently engage in prayer for them.
I am super blessed because my sweet husband is a web designer and he patiently helped me through this process (which means I tried my best to explain what I wanted, and HE did the actual work!) (shameless plug for my husband's business—check out some of his work at http:// www.Safe-Harbor-Design.com)
I hope that everyone who comes across this blog comes away with something that speaks to them. God bless.
"People should feel like they're worth something after being around a Christian."
"I don't know what to do with _____________!!"
How many times, as a teacher, have you said that? And heard other teachers say that? What do you do when you are absolutely at your wit's end over a particular student? I am at that place this particular school year. I am facing challenges with students this school year where I feel completely inadequate.
This is  like a "no duh" moment, but when you don't know what to do with a kid:  God does. The One who uniquely created this child, the One whose thoughts about this child are as vast as the grains of sand, the One who knows the number of that kid's days, who knows the number of hairs on that kid's head , the One who has a purpose and plan for that kid's life, the One who chose you to be that child's teacher, has all the wisdom, insight, and tools needed to reach that child.
Lord God,
I pray that you would fill me with your Spirit today. Give me Your words, Your eyes, and Your heart for my students. I pray that I would have the inspiration and creativity to meaningfully teach and guide them. I pray that I would have the stamina and perseverance to be committed and consistent. I pray that I would have a vision for each child's future to keep before me. I pray that through my example and love, each child in my care would catch a glimpse that there's a God who loves them immeasurably.
In the name of Jesus,
Amen
Reposted from the archives…because I needed to be reminded!
I love how when I'm studying a particular passage in scripture,  a particular word or phrase jumps out at me and compels me to, for the moment, focus on that specific word or phrase. Recently, I've been studying my way through the book of Philippians. I was just beginning chapter 2 and looking at verse 1:
"Therefore if [there is] any consolation in Christ, if any comfort of love, if any fellowship of the Spirit, if any affection and mercy,"
I paused at the phrase "any consolation in Christ" and contemplated…if Jesus was consoling me or others, what would He say? In other translations, the word "consolation" is translated "encouragement", "comfort", or "exhortation".The word "consolation" (paraklesis) is from the Greek root "parakleo" which means to "call to one's side, to summon" and "to speak to in the way of exhortation, comfort, instruction". This tells me that the comfort of God is mine if I would call on Him.   How would Jesus encourage me? I looked in the gospels to see exactly what Jesus said to comfort and encourage those around Him. Here's what I found:
1.Do not worry. (Matthew 6:25-34)
2. Keep seeking and asking. (Matthew 7:7-12)
3. I will give you rest. (Matthew 11:25-30)
4. God the  Father gives His children good gifts. (Luke 11:13)
5. Jesus said He came to give us abundant life. (John 10:10)
6. Let not your heart be troubled. (John 14:1-6)
7. Peace, I give you. (John 14:25-27)
8. Be of good cheer, for I have overcome the world. (John 16:33)
These are just some of the verses I found where Jesus was offering encouragement and comfort to those whom He was teaching. I plan to look at each of these portions of scripture individually…to better discern and digest how to look to God for my comfort and strength; to brand His peace on my heart that it might become part of me. And then in turn, how I might be a comfort and encouragement to others.